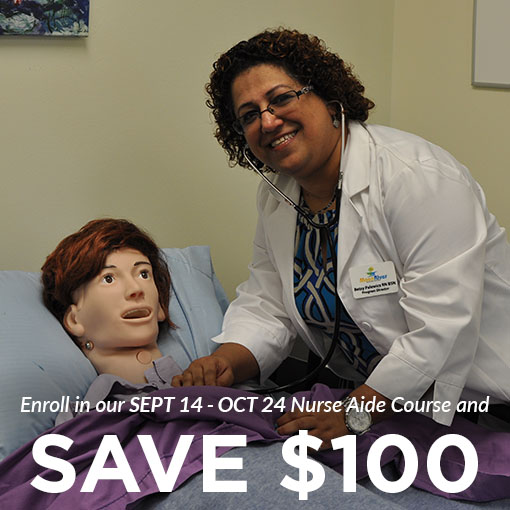 Moon River Nursing Careers in Ashburn, VA, provides excellent training to take the Virginia Board of Nursing exam to become a Certified Nursing Assistant (CNA).  Licensed CNAs have an abundance of job opportunities in hospitals, medical offices, clinics, nursing homes, assisted living, memory care, home health and Hospice.  Enroll in the September Nurse Aide Class and SAVE $100.
The next class is:
September 14 – December 14, 2019
Classes meet Saturday & Sunday 8 am – 4:30 pm
Clinicals 6:30 am – 3 pm 

The Nurse Aide training is ideal for
a) high school graduates on a vocational path,
b) those seeking a new career in healthcare, and
c) college students and recent graduates seeking patient care experience before medical school or other graduate programs. 
Moon River Nursing Careers is located in Ashburn, Virginia. It is a great location for students who reside in Loudoun County or western Fairfax County. Qualified students can receive scholarships and interest-free payment plans. Email betsy@moonrivernursingcareers.com or call (703) 955-1811 to reserve your seat today!