Hospital to Home Transitional Care
Provided by a licensed Home Health Agency
A loved one returning home from the hospital is an experience filled with a mix of emotions. On the one hand, knowing your loved one has recovered sufficiently to be discharged from the hospital is reassuring. On the other hand, it can be stressful to make decisions regarding what care will be needed for a safe transition from the hospital to home. Moon River Senior Care and Transportation, conveniently located near Inova Loudoun Hospital, is dedicated to assisting older adults in making the transition home after a hospitalization as easy as possible. The Hospital to Home program focuses on the comfort and safety of patients who are being discharged from the hospital. 
Our licensed home care agency specializes in providing home care to those needing 20 or more hours of home care per week. We offer a wide range of services to help you or  your loved one make a smooth transition home.
Moon River Senior Care Transitional and Ongoing Services
Home Health Care

Our certified nursing assistants and home health aides can help with a variety of daily tasks including medication reminders, bathing assistance, dressing, feeding, transfers, restroom assistance, and light housekeeping. They can also assist with: 
Medication Management and Reminders
During the initial assessment, a nurse will review the discharge plan and ensure the pill box is filled with the correct medication. Following a hospitalization, a new medication may be prescribed in place of the previous one. Our dedicated nurse will ensure that the medication regimen outlined in the discharge plan is accurately reflected in the patient's pill box.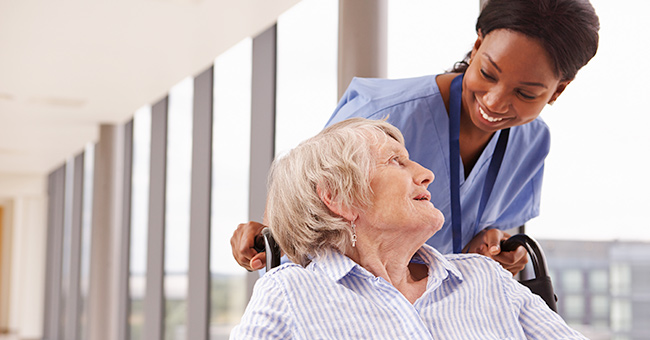 Grocery Shopping 
A caregiver who is an approved driver with Moon River Senior Care can transport a client or accompany him or her to the store to get groceries. Caregivers can assist with making the shopping list to avoid purchasing items that are already in the pantry. 
Refrigerator Check-Up
Is there anything spoiled in the refrigerator? Sometimes, a hospitalization is unplanned and upon returning home there are spoiled items in the refrigerator. A caregiver with Moon River can dispose of the spoiled items, clean up the kitchen, and take out the trash. 
Meal Preparation 
Eating well and staying hydrated are critical components of healing. Caregivers can assist with basic meal preparation and encourage fluid consumption. We are committed to helping you or your loved one recover as quickly as possible.
Exercise
Physical can take many forms, and is tailored to each individual's circumstances. It can range from taking walks, doing prescribed exercise at home, or going to a physical therapy session. Our caregivers strive to make exercise an enjoyable experience by adding music and dance movements. 
Household tasks  
Chores can be overwhelming when recovering from surgery, an injury, or an illness, we can provide the necessary support to complete these tasks. Sorting and organizing household items is another service we offer. 
Follow-up appointments
Making and keeping follow-up appointments is important for the best recovery.  A caregiver from Moon River Senior Care can schedule appointments and provide transportation to and from them. If requested, the caregiver can take notes at the appointment and assist with and add future appointments to the client's calendar. 
Case Management
For those who are seeing several different healthcare providers, it is important that there is Coordination of Care. The older adult receiving may be able to manage this communication but, for those who do not have the ability or time to do this, there is the option of employing a Registered Nurse from Moon River Senior Care to coordinate care.  
Getting Started
There is no fee for the initial assessment to determine the scope of care needed to transition from Hospital to Home. Each client we serve is seen as an individual with a unique life history. It is our pleasure to provide essential care to live comfortably and safely at home after recovering from an illness, injury or surgery. If you are interested in the Hospital to Home program call (703) 766-5758 for more information.
"Thanks for all your pre-surgery help this last year. That was a very challenging rough patch for us and Moon River saved the day." -Tricia G.
"Thank you for your great planning and flexibility." -Susan P.

Moon River Senior Care is an Award-winning Home Health Agency in Ashburn, VA Providing 24/7 Home Health Care. Call us today!
Ready to get started?