In-Home Personal Care Services in Ashburn, VA
Provided by a licensed Home Health Agency
According to the AARP's "Home and Community Preferences" survey, more than three-quarters of those aged 50 and up want to age in place. Unfortunately, illnesses and disabilities can complicate matters for those who are aging. If your loved one is struggling with aging in place, in-home care can help.
Finding in-home care can be a daunting experience because you want to find only the best services for your family and you may wonder, "So what exactly is the care that my loved one requires?" Here is some information for you.
What Exactly is In-Home Care?
In-home Care allows people to age in place, or continue living independently in their own home. Personal care and companion care are the two types of in-home care.
Companion Care
A companion provides social interaction and can assist with daily tasks and chores. They can also arrange for and accompany clients to medical appointments, social activities, and errands. Companion care primarily provides emotional support and socialization to the client.
Companion care services include the following:
● Medication reminders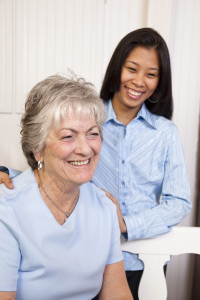 ● Home organization
● Calendar management
● Laundry and light housekeeping (no more than 20 percent of any shift should be spent cleaning)
● Transportation
● Pet care
If a family member of yours lives independently and wants to stay in their home but has difficulty with certain daily tasks, companion care can be extremely beneficial to their happiness and wellbeing.
Personal Care
A personal care aide can assist with activities of daily living (ADLs) as well as more personal tasks. They may also assist with the companion care duties outlined above.
Personal care services include the following:
● Transfers
● Showering
● Dressing
● Grooming
● Toileting
● Feeding
If your loved one needs help with personal tasks, personal care can provide you both with the peace of mind they require to age in place.
---
Moon River Senior Care is ready to help. For more information about In-Home Personal Care services in Ashburn VA and the surrounding areas, contact us today or call (703) 766-5758.
---
Getting Started
The first step toward receiving care is arranging for an in-home assessment. Before beginning home health services, a registered nurse will visit the client and develop a care plan.
Moon River Senior Care and Transportation is a licensed home health care provider that provides companion as well as personal care. There is no enrollment fee or requirement to use a minimum number of hours per week in our private-pay program. Clients can reserve time on a daily, weekly, or as-needed basis.
We believe that the best care is delivered through a team approach, whenever possible, and we offer flexibility in scheduling to accommodate changes in our clients' needs. The caregivers at Moon River Senior Care are trained to help with the activities of daily living (ADL), and we hire caregivers that we would trust to assist our own family members. Our Employees must pass an extensive background screening, have excellent professional references and a stable work history.
Let us know how we can help.
"I appreciate the support and care from you and all the staff at Moon River over the many months of care for my mother." -Daniel M.

Moon River Senior Care is an Award-winning Home Health Agency in Ashburn, VA Providing 24/7 Home Health Care. Call us today!