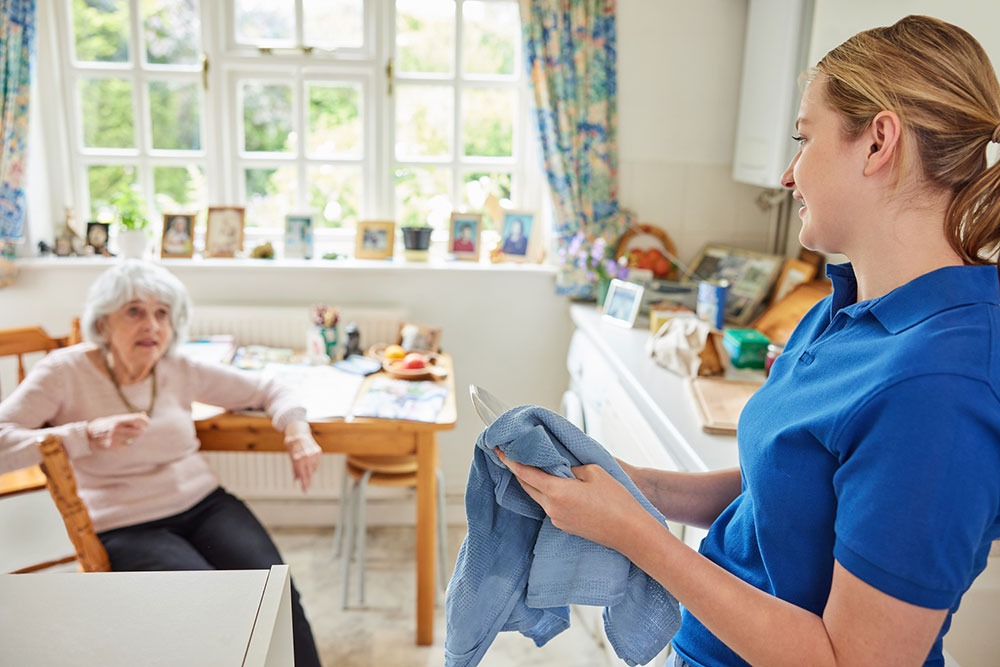 Aging In Place:
Spring Cleaning to Create a Safer Home
As we age, our homes may become less safe due to hazards we didn't consider when we were younger. You may also find everyday tasks becoming more challenging. With spring just around the corner, it is a perfect opportunity to evaluate our homes and make adjustments to prevent accidents. Here is a guide for improving both the safety and functionality of each room in your home:

---
Kitchen
Replace Cabinet and Drawer Knobs
Replacing cabinet and drawer knobs with easy-to-use levers can enhance ease-of-use in your kitchen.


Consider New Cookware
For those with poor eyesight or visual impairments, using colorful dishes, utensils, and cookware that contrast with the color of your countertops, tabletops, and storage areas can make it easier to navigate the kitchen. Additionally, consider using unbreakable or plastic cookware to prevent any accidents involving broken glass. 


Flashing Light Alerts
For people with hearing impairments, using thermometers and timers with flashing lights can be an easy indication for when food reaches the desired temperature or when cooking time is complete.


Invest in Automatic Shut-Off Devices 
Using automatic shut-off devices is a simple and effective way to prevent accidents caused by leaving stoves or kettles unattended.


Remove Dish Towels
To prevent accidental fires, it is important to remove any hanging dish towels from stove handles and other heat sources.
---
Bedroom
Make Sure Your Bed is at an Appropriate Height
Adjusting your bed to a comfortable height can make it easier and safer to get in and out of bed.


Keep Your Devices Nearby
Having your phone or another call device nearby will allow you to contact help in the case of an emergency.


Flashlights
It's crucial to keep flashlights readily available throughout your home to prepare for emergency situations, such as power outages. Keeping a flashlight on your nightstand can be particularly helpful in case you need to navigate in the dark or during a sudden loss of power.


Smart Assistants
Installing an Alexa or Google Home assistant can be a great help in your bedroom. Smart assistants can answer commands like turning on and off lights or even calling people.
 
Get Rid of Extra Pillows and Blankets
Although they look nice, extra pillows and blankets can potentially fall off the bed in the middle of the night and pose a fall risk so it's best just to stick to the basics.


Keep Pets out of the Bedroom
It's common for pet owners to enjoy sharing their bedroom or even their bed with their furry companions. However, it's important to consider the potential risks associated with this practice. Pets may get up and move around during the night, and if they are not seen, they can become a tripping hazard. Therefore, it's important to be aware of your pet's movements and take precautions to avoid any accidents.
---
Bathroom
Raise the Toilet Seat
Transferring on to a toilet seat can be a challenging task for many individuals. A practical solution to consider is purchasing a raised toilet seat from a medical supply store.
 
Shower and Bath Chairs
In-shower and bath chairs can make your bathing experience much better, preventing fatigue and falls.


Handheld Shower Head
The handheld shower head pairs well with a shower chair and prevents any unnecessary reaching.
High Quality, No-Slip Bath mats
Bath mats are an essential safety feature in any bathroom. Specifically, bath mats that have rubber, non-slip bottoms can be incredibly helpful in preventing slips and falls. By providing a secure grip underfoot, these mats can prevent accidents and make your bathroom experience safer and more enjoyable. Therefore, investing in a high-quality bath mat with a non-slip bottom can be an excellent way to enhance the safety and comfort of your bathroom.
---
General
Keep Your Essentials in Reachable Range
Ensuring that the items you use frequently, such as your toothbrush, toothpaste, or favorite snack, are within easy reach can save you from unnecessary reaching and potential accidents. Placing these items within a convenient range can also help you maintain your independence and mobility. Therefore, taking a few minutes to organize your everyday essentials can go a long way in making your daily routine more manageable and safe.
Declutter
Cords, shoes, newspapers, or anything on the ground can be a fall hazard if you're not careful. Be sure to clear walkways and spaces in your house to be free of clutter, especially on the floor. Additionally, knowing there are no obstructions in your path will allow you to move confidently throughout your home. 
Lights
If you have dim lights in your home, you might want to consider changing them. Brighter lights can provide you with better visibility, allowing you to see things clearly and avoid potential accidents. Additionally, using night lights in areas such as hallways, bathrooms, or the kitchen can be incredibly helpful, especially when you need to navigate your home in the middle of the night. 
Non-Slip Shoes
Investing in a comfortable pair of non-slip shoes or slippers will help you prevent falls especially in places with potentially slippery floors like bathrooms or kitchens.
Live on a Single Floor 
Living on a single floor can offer several benefits, especially for individuals who may have mobility issues or find it challenging to navigate stairs. By removing the need to move up and down the stairs, you can enjoy a more convenient and comfortable living experience. This can also reduce the risk of accidents and injuries that may occur when using stairs. Furthermore, living on one floor can make it easier to access all areas of your home, allowing you to maintain your independence and mobility.
Install handrails or grab bars
Installing handrails throughout your home is a worthwhile investment. Some places to consider installing them would be near the bed, toilet, shower, or tub.
Make Sure There are No Loose Rugs or Carpets
Loose rugs and carpets pose a huge tripping hazard so make sure any loose carpet is mended and make sure all rugs are secured properly with a non-slip backing. It may even be best to remove rugs all together. 
Add Textured, No-Slip Strips and Wax on Floors, No-Slip Tape on Steps
No-slip strips and wax are excellent options that can be easily found in most stores or online. These products provide an extra layer of protection on surfaces such as floors and bathtubs, creating a non-slip surface that can significantly reduce the risk of accidents. Additionally, these products are low-cost and easy to apply, making them an excellent investment for anyone looking to improve the safety of their home.
Remove Wheels on Chairs
If you have a rolling office chair or any other chair with wheels, you may want to consider either removing the wheels or replacing the chair entirely.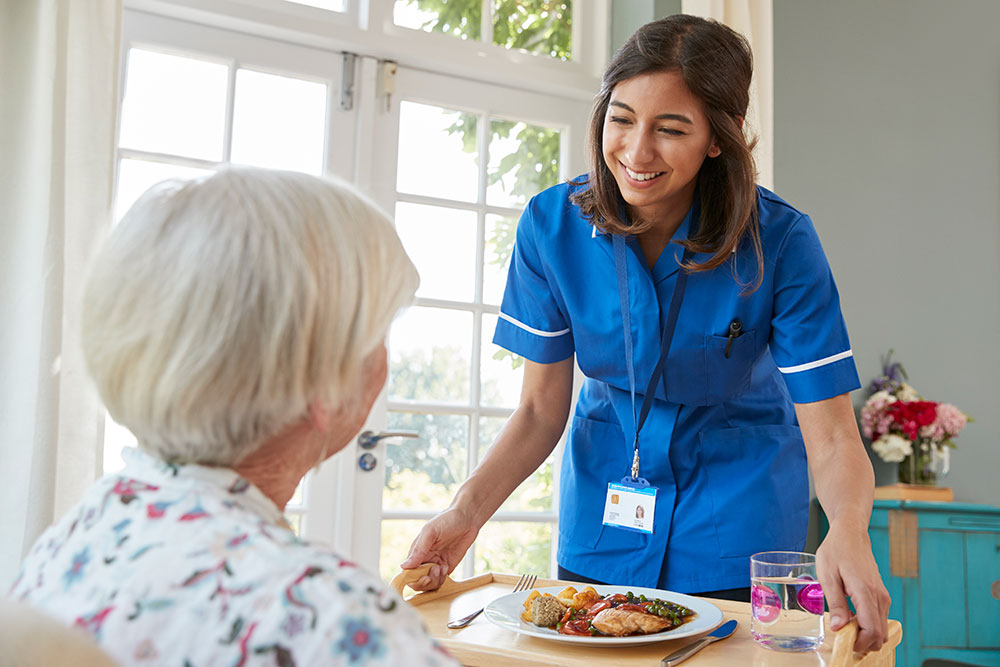 Hire a Home Health Aide
Hiring a home health aide is a great way to have support around your house. Whether you need some help tidying up around the house, meal prepping, or organizing your home, companion care is right for you. If you need some extra assistance, including personal care, you may want to consider an aide.
Moon River Senior Care and Transportation is a national recognized licensed home health care provider that provides companion as well as personal care. There is no enrollment fee or requirement to use a minimum number of hours per week in our private-pay program. Service is provided 24/7, and we strive to assign the caregiver best qualified to fit our client's needs. If you are interested, please call (703) 766-5758 for more information.