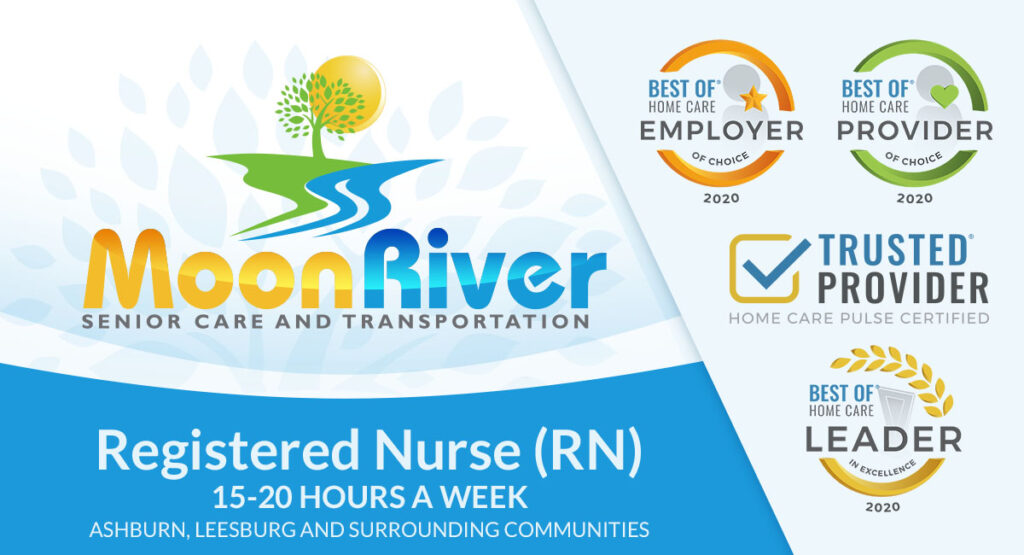 Moon River Senior Care and Transportation is hiring a professional, skilled, compassionate Registered Nurse to work 15-20 hours a week with older adults in Ashburn, Leesburg and surrounding communities. Our licensed home care agency provides services that allows seniors to "age in place" and maintain the highest level of independence.
The Homecare Registered Nurse, in coordination with the Director of Nursing, initiates and completes Homecare Assessments and Reassessments, skilled nursing visits, education and supervisory visits of Certified Nurse Aides.
Moon River Senior Care is a highly respected home care agency offering:
· A Supportive team environment
· Competitive pay with direct deposit
· Paid orientation and ongoing training
· Employee recognition program
· Flexible work schedule
·Duties and Responsibilities:
· Plan, Develop and Implement Plan of Care
· Evaluate Plan of Care effectiveness and modify as needed
· Perform Quality Assurance
· Coordinate and Collaborate with various Disciplines, Physicians, Communities, Peers, Client families, Office Staff, and Medical Entities
· Provide Education to Certified Nurse Aides through orientation, skills training, supervised visits
Criteria:
· Must possess Critical Thinking and Reasoning Skills
· Complete all Documentation in Accordance with Virginia State Laws and Nursing Board
· Ensure compliance with local, state and federal laws
· Must possess Interpersonal Skills
· Positive Attitude
· Leadership abilities
· Self-Motivated and Strategic Decision Maker.
Required Qualifications:
· Current Virginia State RN License
· Home Health/Home Care experience a plus
· 1-2 years of experience in Med- Surg or Home Health
Moon River Senior Care is growing through referrals from satisfied clients. Home Care Pulse, a home health third party evaluator, ranked our agency in the top 15 percent in the country. Our agency was recognized as an Employer of Choice and a Provider of Choice. If you are an extraordinary nurse seeking a new opportunity, we invite you to apply for this position.
COVID-19 considerations:
PPE provided to all employees of Moon River Senior Care.
Candidates can send their resumes to hr@moonriverseniorcare.com