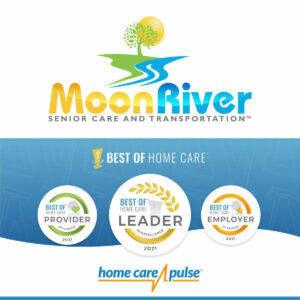 Moon River Senior Care and Transportation received the 2021 Home Care Pulse Certified – Trusted Provider, Best of Home Care – Provider of Choice, Best of Home Care – Employer of Choice, Best of Home Care – Leader in Excellence Awards from Home Care Pulse, a respected home health industry evaluator. Moon River Senior Care employees were randomly selected each month for participation in a job satisfaction survey. They said they enjoy flexible schedules, a great work environment and felt appreciated by their home health clients and supervisors.
Our agency is committed to helping older adults remain as independent as possible, for as long as possible. Services include companion care, senior transportation, homemaker services, personal care and skilled nursing.
Learn more about our services or call us directly at (703) 766-5758.